Traditional Tuscan cuisine:
The cook, Sandra (awarded as "Madame Le Chef") offers for lunches and dinners some genuine and typical Tuscan dishes: tagliatelle, rabbit with herbs, spelled soup, Florentine sliced fillet, 'pappa col pomodoro' (Tuscan soup with bread and tomato soup) and jam tarts…
Meals are served in the wide dining room with a fireplace that creates a relaxing and warm atmosphere, with wooden-beamed ceiling as in Tuscan-style, or outdoor, in the cozy garden surrounding the farmhouse.
---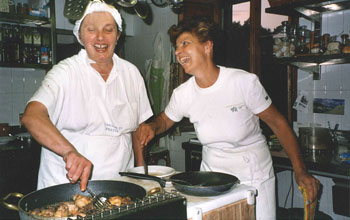 Organic products:
The farmhouse produces high quality organic and natural products, home grown, like jam, extra virgin olive oil, tomatoes, bread, pasta, honey, sweets, which are prepared and served with great care.
The farmhouse Gli Arancini offers to its guests tastings of organic products grown in its own garden.
Customized menus on request:
Possibility to book a special menu for your children, for athletes, vegetarians, coeliacs or anyone who needs to follow a special diet.
---
Events:
The farmhouse will be pleased to host your ceremony for lunch, dinner or buffet in a cozy and charming setting.
Wedding receptions, birthday parties, graduation dinners are held outdoors or indoors at the structure.
---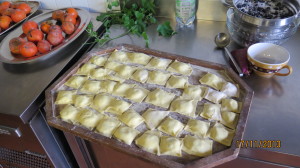 Cooking lessons:
– "Discover the flavors combining tradition and organic food":
After collecting organic fruits and vegetables in the garden of the farm, the owners Maria and Sandra will make you discover the flavors of traditional Tuscan cuisine with their special and fun cooking lessons: you will learn how to cook cabbage porridge, spelled soup, the pappa al pomodoro, the ribollita and many other typical Tuscan dishes.